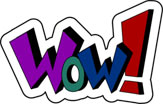 Fun English Language Stuff!
English is an interesting language with lots of funny sayings and strange quirks, enjoy some of the best with our range of fun English language stuff.
Find cool trivia, funny jokes, impossible tongue twisters, witty riddles, classic puns, unique figures of speech and much more. Read on and have fun learning more about the English language!